That's right. Not only will Gordon Ramsay have "Gordon Ramsay Steak" in Paris, Las Vegas, he is also set to open another eatery in Caesars Palace. The "Gordon Ramsay Pub & Grill" is expected to open in late 2012. It will be taking over the place of the Bradley Ogden restaurant inside Caesars Palace (used to be across from the

Caesars Entertainment scores permit for "The High Roller" from State
On Wednesday July 25, 2012, Caesars Entertainment announced that it has received the Amusement and Transportation System (ATS) permit from Clark Country Neveda. This permit is the 'final' green-light Caesars needed to fully constructs all the elements that will create "The High Roller". The observation wheel, (read: big ferris wheel) will be the largest one in the world.
The Linq Vegas & The Vegas Economy
Las Vegas, and… Jobs? The Linq will be providing a massive injection into the economy of Las Vegas and the western United States. It's construction will bring 3000 construction jobs to Las Vegas, and 1500 permanent jobs once its complete. The Linq, will be an outdoor retail and dining space that is costing Caesars Entertainment over 550 Million Dollars.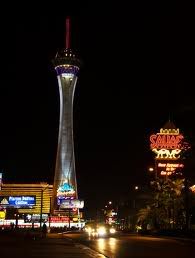 The High Roller construction Under Way!
The High Roller Linq Currently under construction, behind where O'Sheas used to be, this will be where people get on and off the massive observation wheel.Eventually it will look like: More on 'The High Roller" (yes, it will be a massive ferris wheel), can be read here. Bookmark on Delicious Digg this post Recommend on Facebook share via Reddit
Read more…
O'Sheas is now Closed
"Oshea's Las Vegas Closed" A few days ago, on April 30th, oSheas closed its doors, while Caesars Entertainment makes way for Project Linq, which is under construction. The Casino will eventually be demolished itself. Fear not! O'sheas will exist again, as a part of the new Linq complex. Update: The parking lot behind osheas was demolished on May 1st 2012.
Read more…

Center Cut Steakhouse at The Flamingo
Opening April 1, 2012, The Flamingo will see "Center Cut Steakhouse" open in their fabulous Casino & Hotel. Center Cut Steakhouse will replace The Burger Joint near the sportsbook and the Tropical Breeze Cafe. The new upscale steakhouse joins the Flamingo at a very exciting time, as Caesars Entertainment ramps up the extensive upgrades to the Flamingo to coincide with
Gordon Ramsay Steak Las Vegas
Gordon Ramsay is finally expanding his restaurant empire into Las Vegas. According to his Twitter, he is aiming at a May 1st opening of the new restaurant called "Gordon Ramsay Steak" The steakhouse will be taking the place of the former "Les Artistes Steakhouse" in Paris, Las Vegas, which recently closed. Gordon Ramsay has a few other restaurants in North
'Les Artistes" Steakhouse at Paris Closed
The very decorated, and extremely delicious "Les Artistes" steakhouse in Paris, Las Vegas has been closed. The restaurant has been closed, and will be renovating to bring in a new name to Paris. The closing is not entirely a surprise, considering the vast renovations and upgrades which are occurring over at the Flamingo, and the announced demolition of Oshea's, and
Hakkasan Las Vegas to replace Studio 54
With Studio 54 closing at the MGM Grand, there has been a lot of speculation as to what will be taking its place. We've recently found out that Angel Management and London-based restaurant operator will be opening a new restaurant/nightclub in the space Studio 54 once occupied. The restaurant and club, being called "Hakkasan Las Vegas" is expected to open
Studio 54 Las Vegas Closing
The iconic club in the MGM Grand will be closing tomorrow, February 4th. As of February 5th, "Studio 54 Vegas Closed" . After a 14 year run, the MGM Grand has decided to remove the aging club, and update it to something new. This co-insides with the closing of the the MGM Grand's Lion Habitat as well.
Search Results
O'Sheas Trivia Nobody Knows But This Blog (Until Now)
When the beloved O'Sheas casino closed (in April, 2012) to make way for The Linq project, there was much wailing and gnashing of teeth. We know, because we were in the building, gnashing along with all the other O'Sheas fans.As the end neared, the table games were shut down, one-by-one. At the roulette table, the wheel was spun for a final time.The moment of truth.This blog took note of the last number to hit (hint: it wasn't the one with the big stack), for posterity, but haven't shared it, until today.
The last spin of the O'Sheas roulette wheel was 31, black. Now, you know.
We miss you, O'Sheas, our sticky, boisterous, bedraggled, slurring old friend. Read more.
110 13 2 125
Posted on August 14th, 2012 by sroeben | 0 Comments
World's Largest Nike Collection Comes to Las Vegas
Jordan Michael Geller is a man obsessed. His obsession has led to amassing the world's largest collection of Nike shoes, and he'll soon be sharing his record-smashing collection in a new "ShoeZeum" at Neonopolis in downtown Las Vegas.
Oh, he's just getting started.
The ShoeZeum is expected to open by Labor Day weekend (Sep. 1, 2012), and will take up a dumbfounding 7,500 square feet in the long-vacant space formerly occupied by Jillian's, a restaurant, arcade, bar and music venue.
We got an exclusive peek at the new museum space and chatted up Geller about his astonishing collection.
This work-in-progress museum is a shoo-in for some serious Sin City buzz. See what we did there?
For starters, the museum will feature more than 2,500 pairs of shoes. The collection is so large, in fact, maps will be provided to guests to get the most from their visit. The ShoeZeum will be divided into 23 distinct exhibits.
An automatically-this-blog's-favorite Las Vegas section, for example, will include things like Nike Dunks inspired by UNLV (University of Nevada, Las Vegas) and other shoes inspired by playing cards.
Yes, there are Nikes inspired by playing cards. We did not know that.
Another exhibit will be devoted to shoes based on the theme of beer, wine and alcohol. Possibly also our favorite. Decisions, decisions.
The collection includes shoes inspired by snack foods, "The Ugly Duckling," the Muppets, the San Diego zoo, hemp, every conceivable holiday (Cinco de Mayo, Halloween, Valentine's Day among them), Sea World, comic books, birds, flowers and just about anything else you can imagine.
Speak with Jordan Geller for a few minutes, and your mind will reel at his encyclopedic knowledge of Nike culture and history. He's not affiliated with Nike, he's just kind of crazy-enthusiastic about their shoes.
"I'm the biggest shoe geek in the world," admits Geller.
There's a lot of Nike knowledge in that brain.
At times, you'd think Geller is speaking another language, such as when he rattles off things like, "We've got vintage waffles from the '70s, the Air Max 1, Light and Stab and 90, Hyperdunks, Huaraches and Flight 89s." We're not entirely sure how he fits all this into his head, but it's endlessly fascinating, and we're not even a "sneakerhead" (the name given to extreme sneaker enthusiasts).
Perhaps the best way to get the Jordan Geller experience is to see it in action. Here, he gives a tour of the ShoeZeum at its former location in San Diego. Fair warning: There's a 41% chance your brain will 'splode.
Here's another great video of the attraction being packed up for its move to Las Vegas, and another video showing where the shoes were kept during the transition to the new ShoeZeum. Let's just say Geller is quite, um, meticulous. (Translation: It's like an episode of "Hoarders," but with incredible organization and purpose.)
Of course, if you have the world's biggest Nike collection and your name is Jordan Michael Geller (yes, that's his real name, and it was given to him some time before the basketball player hit the scene), you can't not have an entire wing of your collection devoted to Air Jordans. Geller says, "This is where sneakerheads lose their minds." The ShoeZeum boasts 26 years of shoes from the Air Jordan signature line, a whopping 500 pairs.
Jillian's arcade ticket redemption counter will now be transformed into a sort of Michael Jordan shrine.
Coming soon! Prediction: Basketball fans are going to eat this up.
The journey to having the world's biggest Nike collection began during Geller's second year of law school (yes, he's also an attorney), when he went to a swap meet. There, Geller met a vendor selling Nikes for $20 a pair. At the time, Geller had $300 to his name. He talked the vendor down to $15 a pair, got 20 pairs, then posted them on eBay. His $300 turned into $800 and he was on his way. He used his profits to buy more shoes, sold them, re-invested his profits, and so on.
The vast majority of the shoes in the collection were acquired, pair by pair, through individual purchases on eBay.
While the Nike shoe collection itself is staggering, one of the real selling points of this new downtown attraction is definitely Geller himself. His passion is contagious. He'll be very hands-on when the museum opens, describing himself as a sort of "Nike Willy Wonka."
Geller notes, "When I used to give tours to people, to people who really knew what they were looking at, there were times when they had to sit down. We had to stop the tour because it was too visually stimulating."
Why are you standing around for photos, Jordan? We want our Nike museum, already.
What do the folks at Nike think of Geller's collection? They're huge fans. In fact, when a smaller version of the museum was in San Diego, the company's CEO and creative team flew in from Beaverton, Oregon for a tour.
Geller says, "I think it's similar to the way Kevin Costner's character in 'Field of Dreams' converted a cornfield into a baseball field. He built it and had his boyhood heroes show up and play ball. People are passionate about Nikes and sports and pop culture. All those things are captured by these shoes. My hope is that if I build this place, people will come."
One of the more remarkable aspects of the Nike collection is that even if you aren't a "shoe geek," the sheer size and scope of it makes it completely fascinating and inspires goosebumps.
Some one-of-a-kind athletic shoe art.
At the moment, Geller has signed a relatively short-term lease, unsure whether the museum will remain downtown or if another venue on the Strip might be its ultimate home. Our first thought? What a great fit for the Linq development project, what with special attention being paid to Gen-X and Gen-Y (ages 21-46) visitors. We're just saying.
A microbrewery, Banger Brewing, is tentatively slated to move into the ShoeZeum space at some point, but it's unclear when that might happen, and probably not before 2013. So, for now, Geller is confident his life's work will entertain and delight downtown, adding another quirky draw to a rejuvenated downtown and Neonopolis.
Trivia: In the world of shoe collecting, the term used for mint condition shoes is "dead stock." We had no idea how much we don't know about shoes.
The ShoeZeum at Neonopolis is located at 450 Fremont Street, right next to the Heart Attack Grill.
Tickets for the family-friendly ShoeZeum are expected to run about $10. More news to come!
First Look at IP's New Check-In, More Linq News
One of the cool things about The Linq development project happening in Las Vegas is that it's not just one thing. It's not just a giant observation wheel, or new places to shop or drink. From what we've seen and heard so far, The Linq could end up being a new way to experience Vegas, or at least the middle part of it.
Just about daily, The Linq and its associated renovations give us something new to ogle. Every day brings a new surprise, and things are going up almost as quickly as they're being torn down. Yay, new!
Every draped cloth means there's a surprise in store.
We popped into the soon-to-be-renamed Imperial Palace (hint: it won't be a Horseshoe) for a look-see, and poked our camera behind the fabric and plastic for a peek at the hotel's brand new reception desk.
The new check-in area at IP, still a work in progress. Theme-free and inviting.
We haven't heard when the current reception area will be moved, but it's clear the IP is moving toward a more current, but still accessible, vibe.
The new check-in area sits next to the "dealertainer" pit, and it looks like the small bar that occupied the space is gone. We played many a video poker hand in that intimate bar, but it was probably time for it to go. It was getting sticky.
We cruised out the front door of the Imperial Palace, and let's just say, the times they are a'changing.
That's where the Rockhouse used to be. Wow.
Yep, that's the former home of the Rockhouse. Walls gone. Heck, everything's gone. This is where cars used to drive up to drop people off at the IP's front door. Now, it looks like it's getting some A/C.
Continuing out the former porte-cochère, there are fewer and fewer themed elements remaining.
The last blue and white thingy.
You can now see things you never could. For example, you can see Carnaval Court (on the left, below) from the former drive-up area of the IP. Weird.
We're fairly sure there was a building here before. So-long, building.
Next, we circled around toward Harrah's Las Vegas and Carnaval Court. Recent construction has freed up a lot of space for Linqy goodness.
This area can't be seen by the public. Only people who read this blog, because we don't live by society's rules. Lucky you.
We can't wait to see what's next.
It's like a blank slate upon which The Linq can use its filbert brush to paint its Vegas magic. Or something.
Please feel free to keep the surprises coming, The Linq.
This is the only Las Vegas icon that's ever gotten a facelift. Swear.
Read more from the guy people are calling the "mayor" of The Linq, Jon Gray.
Is Work Underway on The Linq's Observation Wheel?
Every time you pass by the construction area for The Linq, the massive mid-Strip development project by Caesars Entertainment, you see something new.
Yesterday, we photographed what could very well could be the Linq's High Roller observation wheel's footing.
If this blog was going to build a giant wheel, this is what we'd do first.
Could this blog "confirm" these are anchoring cables for the High Roller? Probably. Are we going to "exert" the "effort" required to do that on a "weekend"? Are you familiar with this blog at all? Moving on.
You go, The Linq. Even if we don't relish including your "The" all the time.
The High Roller observation wheel (like a Ferris wheel, but gargantuaner, which may or may not be a real word) will be 550 feet tall, making it the world's tallest.
The world's second-tallest Ferris wheel, at 541 feet, is the Singapore Flyer. We're not entirely sure where the Singapore Flyer is located, but we know it's not in Las Vegas. We are a blog, not a geographer.
See more poorly-researched construction updates for The Linq.
Linq Update: O'Sheas Has Its Face Eaten Off
Progress can be cruel sometimes. A drive by the former O'Sheas casino is proof.
It was her time.
The good news, and there's lots of good news, is that dramatic progress has been made on the Las Vegas Strip to make way for The Linq, the $550 million development project that will include an entertainment and dining corridor, as well as The High Roller observation wheel. Read more about The Linq.
We've got some recent photos of the area around O'Sheas, including Imperial Palace, and while it ain't pretty, it's exciting to see how Vegas is transforming itself, yet again.
Remember the O'Sheas parking lot? This was that.
The O'Sheas parking lot was imploded on May 1, and construction crews have made quick work of removing the rubble.
Yep, that's what's left. All 17 pounds of it.
Relax. Sin City knows what it's doing.
It's like a blank canvas upon which Sin City will paint its Mona Lisa. A Mona Lisa with bars, restaurants, shops and a huge-ass Ferris wheel.
The Imperial Palace is slowly losing its Asian influence, too. The hotel won't even be called the Imperial Palace much longer. The hotel will soon be renamed The Pulse, after this blog, unless we're completely making that up.
Never a dull moment in Vegas.
This used to have an Asian symbol on it. We think it meant, "Gambling. It's a hoot." Or something along those lines.
The Rockhouse bar and nightclub, outside Imperial Palace, has had its innards removed. Word has it the Rockhouse will be opening down the road in the Venetian. (We try not to ask too many questions.)
Ah, the good times we almost remember.
Out front, the former home of the Rockhouse is barely recognizable.
Sad face. Sometimes, it helps to keep repeating, "The Linq," "The Linq," "The Linq."
There's a new building being erected behind Flamingo Las Vegas.
Look at all the "erected" jokes we're not making.
Take heart, Vegas fans. Out of the ashes shall emerge The Linq. And it shall be fancy.
The Linq will even have an Irish-themed bar. Like O'Sheas, but without the unique fragrance, if you get our drift.
You'll live forever in our memories, O'Sheas.
That freaked us out a little bit. But we're getting past it.
More updates to come! Happier updates. With fewer buildings having their faces eaten off.
Vegas Observation Wheel Battle Royale Continues
If there were ever a time when the word "epic" fit, this might be it.
An epic race to build a giant observation wheel on the Las Vegas Strip is currently in progress, and the folks behind one of the wheels, SkyVue, have upped the ante with a media blitz surrounding some new construction, photographed by this Las Vegas blog mere minutes ago.
Skeptics, please take note: Two sixty-foot towers. This observation wheel is definitely possibly happening!
The other party in the race for observation wheel supremacy, of course, is Caesars Entertainment, operator of several Las Vegas hotels and the company whose official Las Vegas blog this is. (At least that's what we let them think.)
The Caesars Entertainment wheel, The High Roller, will reside in The Linq, a $550 million retail and entertainment corridor, which is already transforming Center Strip. Read more about The Linq.
FYI: If you continue to be skeptical, people aren't going to invite you to parties.
News reports note that financing for the SkyVue project may not exactly be in place at this juncture, but the skeptics will be eating crow, or some other more politically correct metaphor, if the SkyVue wheel actually comes to pass at the south end of the Strip (across from the Mandalay Bay).
The SkyVue observation wheel will feature a giant aquarium. Unless this blog just made that part up.
Read more about the latest phase of the SkyVue construction at the Las Vegas Sun, especially the part about "It's no coincidence that cable trucks are making deliveries just as the International Council of Shopping Centers is holding its convention in Las Vegas." The SkyVue project also includes plans for a retail, dining and entertainment complex.
The High Roller at The Linq. The more observation wheels the merrier, we say.
Get more details about The Linq project, and visit this blog often for superficial, snarky, poorly-researched updates on all the latest Linq news.
O'Sheas Parking Garage Gets All Blowed Up
Things move quickly on the Las Vegas Strip, and Caesars Entertainment has wasted no time in taking the next big step toward making room for the Linq, the massive development project that will feature a shopping and dining promenade, as well as a 500-foot observation wheel. Let's blow something up!
This would be the "before" photo.
At 2:30 a.m. on May 1, 2012, just hours after the closing of O'Sheas, the casino's seven-story parking garage was imploded. Sin City loves its implosions! And while it was just a parking garage, we'll take it.
The implosion was the result of weeks of planning, and involved very technical demolition techniques this blog does not have time to research, so let's just call it "painting on things."
Off the record, what's so tough about imploding something? This blog could paint that.
Read up on closing day at O'Sheas, and learn more about the Linq.
This sign at O'Sheas now qualifies as false advertising.
In related parking news, you're in for a jolt if you try to approach the nearby Imperial Palace the way you always have. The hotel's valet entrance has been closed.
Let's face it, this entryway was always kind of a cluster. Yay, Linq project!
We've heard that part of a hotel referred to as a "porte-cochère," but this blog is not that fancy. It's the place you drive up to the hotel entrance and leave your car and stuff. "Porte-cochère" is French, by the way, and is pronounced, "We have no damn idea how it's pronounced."
Now, guests need to drive around back, probably through Harrah's Las Vegas (the parking entrance, not the hotel itself, that would be rude), to find the new valet area and self-park garage.

It ain't pretty, but it'll do in a pinch.
More Linq news to come, assuming this blog's brain doesn't implode like a parking garage while trying to keep track of it all.
Fans Bid Farewell at O'Sheas Casino Closing
It was loud. It was liquored up. It was a little bit sad. Kind of like O'Sheas casino itself, come to think of it.
At noon on April 30, 2012, O'Sheas casino on the Las Vegas Strip closed its doors, and boisterous fans showed up in droves to knock back one last shot, to place one last bet and to express their appreciation to Brian Thomas (below), the casino's shot-dispensing mascot, Lucky the Leprechaun.
One last time around the bar for Lucky.
As the clock ticked down on O'Sheas closing, customers and staff said their farewells, and spontaneous chants along the lines of "O'Sheas! O'Sheas! O'Sheas!" broke out throughout the casino. Hey, O'Sheas has always been about fun, not about rhyming. And, technically, "O'Sheas" rhymes with "O'Sheas," so let's move on.
The last hand of poker to be played at O'Sheas.
It was a bittersweet gathering for the most ardent fans of O'Sheas, as well as for its diminutive mascot. The closing of O'Sheas marks the end of a 23-year run for the beloved watering hole known for its low table minimums, cheap hooch, quirky entertainment, cheap hooch, beer pong and, oh yeah, the occasional hooch.
Roulette chips are counted and boxed up.
A new O'Sheas will open as part of The Linq in 2013, of course, but that didn't seem to matter to those who turned up for the original's last fling. O'Sheas T-shirts and shot glasses were distributed liberally, and die-hard players wagered until the bitter end.
This was the last spin of the roulette wheel at O'Sheas. We kind of don't want it to stop, and thanks to animated .gif technology, it doesn't have to.
Everywhere one turned, there was a last something. A last spin of the roulette wheel. A last hand of blackjack. A last hand of Strip Poker. (Because it's played near The Strip. Why, what were you thinking?) A last game of beer pong. A last roll of the dice. (It was a seven. Isn't it always?)
This blog is going to miss you most, O'Sheas craps table.
Fans also signed a memory wall. This blog feared it would be ruined because some nimrod scrawled his name across it during the casino's final weekend, but there were so many more signatures that followed it, the new ones obscured the irksome one almost entirely. A photo of the wall will be installed in the new O'Sheas, a wink to the past and all the guests that has made O'Sheas so utterly unforgettable.
That's a lot of O'Sheas love.
It was gratifying to see such a genuine outpouring of love for O'Sheas during its waning moments. At one point, we calculated Lucky was being hugged at a rate of eight times per minute.
This blog is a big fan, Lucky.
Lucky got a little weepy right about the time this blog did, just before the doors closed and the "Caution" tape went up.
"Remodeling" should probably be in quotation marks.
That's because O'Sheas was more than a casino. It had heart and character and an energy you can't manufacture. And did we mention the cheap hooch?
Lucky will be fine! We just did this in black in white for dramatic effect.
Sure, change is good. But we get to grieve a little for a lost friend, too, right?
Here's to the good times, the crazy times, the times we're sort of glad we can't quite remember. Here's to O'Sheas.
O'Sheas "Final Countdown" and The Linq News
The hours until the closing of O'Sheas may be growing fewer (the beloved casino closes at noon on April 30, 2012), but if you move quickly, even if O'Sheas is gone, it won't be forgotten.
We just learned O'Sheas has issued limited-edition (just 3,000 were produced) gaming chips commemorating the end of an era on the Strip.
Chip collectors, like this blog, lose their gourd over stuff like this.
The $5 chips, "Celebrating 23 Great Years," haven't been put into circulation, so you'll need to visit the casino's cashier cage to get one. Collectible chips like this don't tend to last long at face value, so you'd better move it!
In other news, the entirely awesome Lucky the Leprechaun (real name: Brian Thomas), the mascot of O'Sheas, had a live online chat with his fans today, and we were there!
O'Sheas fans love them some Lucky.
Lucky assured his legions of fans that he's not going anywhere. The next iteration of O'Sheas will be part of the $550 million dollar Linq project, an entertainment, retail and dining corridor set to open in 2013. Read more.
When asked by a chat participant how you close a casino like O'Sheas, Lucky responded, "With lots of police." Nice!
Of course, all work and no play makes Lucky a dull boy, so he took advantage of the Flamingo Go Room (O'Sheas doesn't have rooms) where the online chat was held.
Please note: This blog is not liable for injuries sustained while jumping on Las Vegas hotel beds.
Lucky's going to be busy as the final days of O'Sheas tick by. He's going to be working noon to midnight each day during the casino's final weekend.
The "Final Countdown" celebration begins in earnest on April 28, starting at noon. Guests will be able to get discounted memorabilia and drink specials galore, and live entertainment will also be on tap.
Guests can be a part of O'Sheas history by signing a memory wall which will be photographed with Lucky and placed in the new O'Sheas inside the Linq.
Construction on the Linq is in full swing, a fact we confirmed by grabbing this pic from atop the monorail platform behind Imperial Palace. Yes, we had to purchase a monorail ticket, so, technically, this photo cost us $5. You're welcome.
Vegas doesn't do anything on a small scale. Except Lucky. Wait, that didn't come out right.
There is so much going on with the Linq project, we can't even keep up!
For example, an entire poker room at Imperial Palace is gone as of today. Well, not gone, moved (to near the hotel's sports book). Nevertheless, the new wall pictured below seemed to go up overnight.
What just happened? The site of the former Imperial Palace poker room. Linq, you'd better be awesome, because you're creating some havoc on the Strip.
We couldn't resist strolling through O'Sheas again. Especially because April 26 is National Pretzel Day. And the food court at O'Sheas, you know, sells pretzels. Don't try to make sense of it. We're very emotional about O'Sheas closing at the moment.
Yes, we'll even miss you, giant, dusty pretzel replica.
We're also going to miss the lack of pretense at O'Sheas.
Which, given the photo below, may be the understatement of the last 23 years.
We're going to miss you, too, craps table duct tape.
So, yes, we have some mixed feelings about the demise of O'Sheas. If we can pull ourselves away from our gaming chip collection long enough, maybe we'll add to our list of Things We'll Miss When O'Sheas Closes.
Is this blog going to miss taking photos of little people in bath tubs? Oh, hell, yes.
Share your O'Sheas memories on the casino's official Facebook page, and we'll see you at O'Sheas. Actually, we'll probably see three of you, but you know what we mean. It's O'Sheas.
Party at O'Sheas Ends at High Noon, April 30
This just in: O'Sheas casino will knock back its last shot at noon on April 30, 2012.
A Las Vegas landmark takes one to the nads for progress.
If you and your miscreant friends were planning on being there for the end of O'Sheas casino, don't wait until the evening of April 30, the beloved casino will have gone dark by then. O'Sheas is closing to make room for The Linq. Read more.
There are expected to be ample festivities surrounding the final countdown to the closing of O'Sheas (specifically, "lots of shots," presumably to deaden the pain of the establishment's untimely demise), so don't miss out on the debauchery.

A must-have keepsake, courtesy of Vince Neil Ink at O'Sheas.
More details to come!
Share your O'Sheas memories, at least the ones you can remember, on Facebook.
A Beer Pong Era Ends, Another (Lesser One) Begins
Beer pong fans are about to hear some staggering news. See what we did there?
The era of beer pong at O'Sheas casino on the Las Vegas Strip (at least in its current form) has come to an end. In anticipation of the casino's closing on April 30, as part of the massive Linq development project, beer pong has been discontinued inside the much-beloved watering hole.
The day the beer pong died: April 11, 2012.
The good news is that in Las Vegas, when one door closes, another opens. And in Sin City, that new door often has a ridiculous supply of frosty beverages and gambling nearby.
It appears another much-beloved casino, nearby Bill's Gamblin' Hall & Saloon, will open a new beer pong area on April 13, 2012. Let the mostly-incoherent trash talk begin!
The next chapter in the Las Vegas beer pong saga may happen here. Or something.
The new beer pong area at Bill's is adjacent to the also-new Slush Bar, so close, in fact, the beer pong tables will even be branded with "Slush Beer Pong" (see our exclusive, spectacularly clumsy tabletop rendering below).
The fact "Slush" contains the word "lush" is purely coincidental.
The Slush Beer Pong area is mere feet from the currently-being-revamped Bill's Lounge, home of Big Elvis and other live entertainment.
Yes, we have a photo. A little demanding, aren't you?
The reconfigured lounge at Bill's. There's even a kiosk for a 12-step program.
So, while we may have gotten a little weepy about the end of beer pong at O'Sheas, we'll survive. We can take solace in the fact the new Linq will be entirely awesome, right? No pressure, The Linq.
Some good news: O'Sheas is offering $1 Miller Lite and Coors Lite drafts until the joint closes down. That should help soften the pain a little.
We breached security to capture the scene behind O'Sheas. This parking structure is coming down shortly following the closing of O'Sheas.
Progress never sleeps in Las Vegas.
Before the self-park garage closed, we took note of the demolition preparations, camerawise.
If this blog were going to demolish a parking structure, these are the markings we would make.
Yep, it's getting all kinds of real up in here, as the kids say.
More news to come! There's still time to knock one back at O'Sheas. Yeah, like anyone ever knocked just one back at O'Sheas.
The Rockhouse at Imperial Palace to Close May 5
It's time for more change in the wake of the massive Linq development project in the center of the Las Vegas Strip. The last day for The Rockhouse Bar & Nightclub at Imperial Palace is May 5, 2012.
We just got a little weepy there for a second.
The popular, boisterous watering hole will be moving to a temporary location at The Miracle Mile Shops at Planet Hollywood until a more permanent home can be found (probably by late summer).
They were the best of times and, well, also the best of times.
As the clock counts down for The Rockhouse, stop by and enjoy the hooch, the beer pong and the lovely bartenders swinging from tires.
Don't try this at home. This Las Vegas blog is not liable for your rope burn.
Catch up on all the latest Linq news.

Today's Thing You Didn't Know About Las Vegas
Here's a juicy little Las Vegas tidbit: From 1959 to 1979, the Imperial Palace was called the Flamingo Capri.
We did not know that.
Soon, the Imperial Palace will be "retired" as part of the $550 million Linq development project, which means the hotel will get a new name. This blog's rooting for the name "Lee Nover," but that might just be us.
O'Sheas Does It Up Right for St. Paddy's Day
There was a lot going on at O'Sheas casino on St. Patrick's Day.
There was the rain that drove the block party inside. There was the revelry. There was the bittersweet reality this would perhaps be the last O'Sheas block party. There were the shamrock tattoos. And there was the debauchery. Yes, there was lots and lots of unbridled bauching.
When it comes to throwing a party, O'Sheas knows what it's doing.
As for the bittersweet part, O'Sheas will close on April 30, 2012 as part of the Linq development project. Casino officials did, however, take the opportunity to confirm O'Sheas won't be going away forever, but rather, will have a spot of its own in the new Linq. Read more.
Thanks, guy who let us take a photo of his back.
O'Sheas devotees, including this blog, can take some comfort in the fact the new O'Sheas space in the Linq will stay true to the current O'Sheas feel, with a casual, unpretentious vibe, live music and, of course, beer pong.
See? Unpretentious.
Even torrential rain couldn't moisten the spirits of St. Paddy's day celebrants. Oh, just see for yourself. Warning: Repeated viewings of this video may cause pregnancy or other side effects.
The Dublin Up bar at O'Sheas, as well as the casino and beer pong area, were filled to capacity on St. Patrick's Day, and Vince Neil Ink was doing brisk business as party-goers got shamrock tattoos to commemorate the occasion.
Nothing says, "I vaguely remember St. Patrick's Day at O'Sheas," like fresh ink.
We bumped into O'Sheas spokesperson Lucky the leprechaun, Brian Thomas, who seemed relieved his further employment is assured as part of the Linq. Lucky gets the rock star treatment when he roams the casino at O'Sheas, and always knows how to keep the party lively. (Hint: Free shots.)
Everybody wants to get Lucky in Vegas, but only O'Sheas has him.
Still, there's no getting past the fact O'Sheas, as we know it, will be no more after April 30. We loved hearing from O'Sheas fans, many wearing "Save O'Sheas" T-shirts, about the things they'll miss, most involving beer. Here are our 10 Things We'll Miss When O'Sheas Closes.
You can share your O'Sheas memories on the O'Sheas Facebook page.
Green, check. Fuzzy, check. Hooch, check.
Enjoy more photos, which we, too, are surprised are even remotely in focus, from St. Patrick's Day at O'Sheas in our exclusive gallery.
10 Things We'll Miss When O'Sheas Casino Closes
All good things must come to an end, and this time, that good thing is O'Sheas casino on the Las Vegas Strip.
The beloved casino will officially close its doors on April 30, 2012, to make way for The Linq, a development project that will change the face, and cleavage, of the Las Vegas Strip in a big way. (Yes, cleavage. It's Las Vegas, after all.)
We heart you O'Sheas. In a fairly inappropriate way, if we're being completely honest.
Now, you're allowed to have a sad face about O'Sheas closing. This blog certainly does. We spent many days and nights having a blast at O'Sheas, many of which we actually remember. Change can be rough. We got a little misty-eyed when the Stardust and Sahara closed their doors, too. Visiting the O'Sheas Facebook page, it's clear a lot of people feel the way this blog does. We're going to miss O'Sheas a lot.
Here, then, are our hastily-slapped-together "10 Things We'll Miss About O'Sheas."
1. Strip Poker
Where else can you play poker 12 feet from the Las Vegas Strip?
Poker while you people watch? Vegas heaven.
2. New Games
We love the way new casino games, like the craps hybrid Three Dice Football (below), have often been given their debut and trial run at O'Sheas. Soon, they'll have to find a new testing ground.
We love dice newness.
3. Free Shows
The free entertainment on the stage near the Dublin Up bar has always been a big draw at O'Sheas. Whether it was the band Acoustic Soul, or the wacky "Rock and Roll Game Show," free is always good, and good-free is even better.
Steve Brooks and Matt Phillips of the "Rock and Roll Game Show" will have to find a new place to make us do embarrassing things in public.
4. The Hooch
You hear the word "epic" used a lot these days. Sometimes, it fits. O'Sheas has always been known as a great place to get a cheap drink, including atmosphere galore. Show 'em how to throw a party, Lucky!
Granted, the whistle we won't miss. Moving on.
5. The Tats
One of the most popular tattoo shops in Vegas is Vince Neil Ink at O'Sheas. The shop will be closing along with the rest of O'Sheas, and folks at the shop haven't heard anything about re-opening somewhere else any time soon. Ah, the slings and arrows and needles of outrageous fortune. Check out the tat our friend Max got at O'Sheas, and keep track of the Vince Neil Ink gang on Facebook.
Ow. But we're still sorry to see you go.
6. Soft Serve
Seriously, that soft serve at the Burger King inside O'Sheas was surprisingly awesome.
You miss what you want to miss, we'll miss what we want to miss.
7. Beer Pong
The suds. The competition. The trash talk. O'Sheas has always been the center of the beer pong universe. We'll have to see where beer pong turns up next. Sin City is full of surprises.
Look at all the ball-handling jokes we're not making.
8. Dirk Arthur's Cats
We've known some of magician Dirk Arthur's cats since they were tykes. We trust they'll find a new home soon.
Get a new gig soon, guys! All the raw meat isn't going to pay for itself.
9. Block Parties
Did we already use the word epic? The good news is The Linq is going to be a promenade likely to feel like a block party all day and night, every day and night. With a huge observation wheel in the mix, too.
The Linq probably won't have as much green.
10. Holly Madison Playing Beer Pong
Yeah, that was kind of a one-time thing, but like we said, you miss what you want to miss, and we'll miss what we want to miss.
There are just so many things to love about O'Sheas, but there are great things on the horizon with The Linq, too. Read more about The Linq, a retail and entertainment complex set to open in 2013. See all our O'Sheas posts here.
Oh, and not to be a buzzkill, but there are 285 folks who will be laid off when O'Sheas closes. They knew it was coming, but that doesn't make it suck any less, we suspect. Caesars Entertainment, the company that owns O'Sheas and a slew of other Las Vegas hotels, is working with the affected employees to hopefully find positions at other casinos in town. Ultimately, The Linq project will create 3,000 construction jobs and add 1,500 permanent, full-time jobs when it opens in 2013.
Further consolation: Brian Thomas, the aforementioned Lucky the Leprechaun, isn't going anywhere from what we hear. He'll be staying with Caesars Entertainment in some capacity, and we'll bring you an update when we know what's up.

Can we keep a brick or something?
Happier news? O'Sheas will host its last hurrah in the form of a St. Patrick's Day block party on March 17, starting at noon and going until everyone's livers are sufficiently tested. You haven't partied in Vegas until you've done St. Patrick's Day at O'Sheas.
So, let's have one last blow-out, and see what's next for the Las Vegas Strip. We'll miss you, O'Sheas, but there are more great times ahead in Sin City. Share your favorite O'Sheas memories in the Comments section